Tuesday, June 21, 2005

Serving Up Summer



A winter's night so long ago...

After a particularly excruciating Christmas Dinner shopping trip on Christmas Eve, when we had sadly misjudged the willingness of Jewel employees to soldier on at their posts in the face of It's a Wonderful Life marathons and an evening of assembling robots and Barbie Dream Houses, we ended up at our neighborhood 7-Eleven for a few last minute items.

As we stood in line and I watched the Go-Go Taquitos slowly spinning on their rollers, I thought Wouldn't it be funny if we just got a bunch of these and made them look fancy, and served them as an appetizer?

Then, I said it out loud.

-------

A brief background on Tin Chef: It's our own home version of Iron Chef that we developed several years ago as a way to stretch our culinary creativity and show off our tricks. Essentially the cook receives the ingredient from the other person and has all morning to shop and brainstorm. The challenge is to make a multi-course meal for 4 people in 4 hours, with each course showcasing the chosen ingredient. No cookbooks allowed. You cannot pick up a knife or otherwise touch or prep your ingredients until 4 p.m., and you must be done with the table set and ready to serve at 8.

We've produced some fine meals this way. We've learned about capabilities and limitations and overcoming disaster, we've created unique and highly enjoyable evenings that have surprised us and delighted our guests.

This was not that. This was an abomination.

Let's get started.

-------

The Rules

Pick a 7-Eleven. You can do whatever you want with what you buy, but you cannot serve anything that you did not buy there.

The Menu

Trio of Go-Go Taquito
Fruit Salsa Medley and Dorito Dust

Hungry Man Farmhouse Chicken Chowder
Essence of Slim Jim and Matchstick Beef Jerky

Oscar Mayer Pomme Tart with Sauce Mornay over Cobblestone Crust

Cherry-Vanilla Dr. Pepper Sherbet with Hand Ground Chocolate Eclatement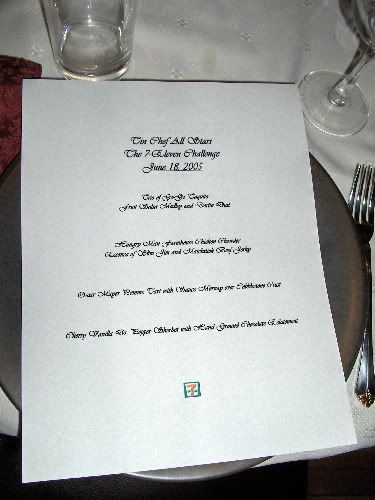 Shopping

Figuring our neighborhood 7-Eleven must be among the most poorly stocked in the city, we headed down to Lincoln Square.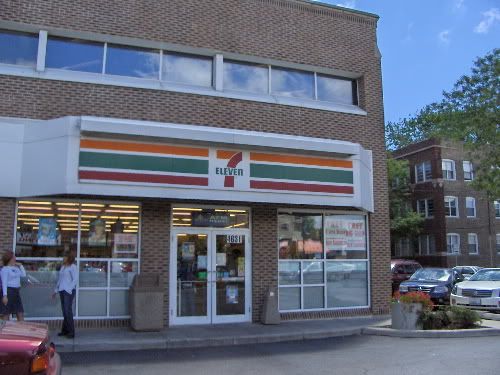 Not sure what we were expecting to find.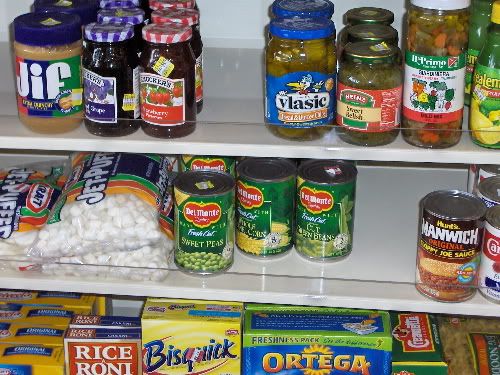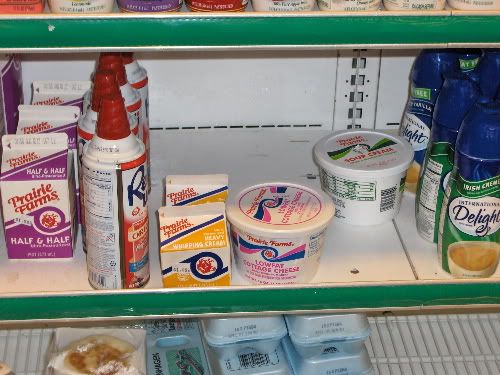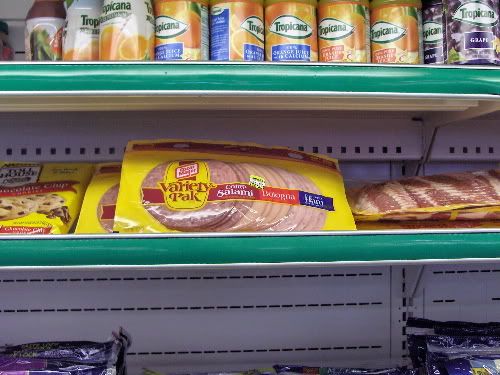 We had already decided that anything fresh we find, we buy. This was going to be hard enough with nothing but processed food to begin with, but to work with no herbs and no spices and very little in the way of fresh ingredients was going to be hideous. We prayed for something. Anything.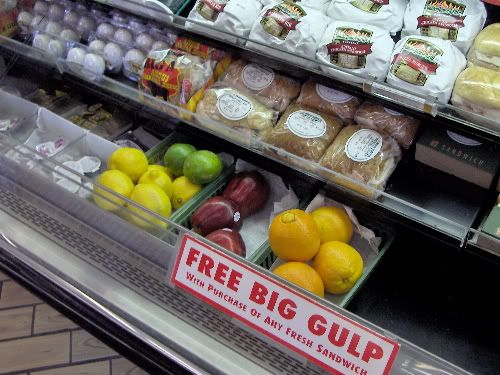 That's a lonely little jar of paprika.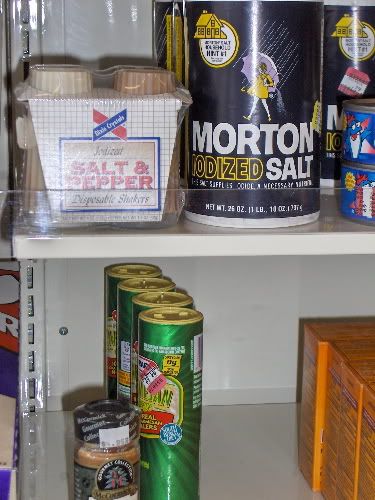 For the chowder we called it Hungry Man even though what we actually found was Boston Market. We thought we hit the jackpot.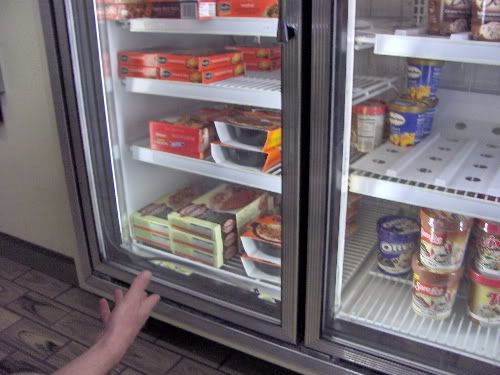 More on that later.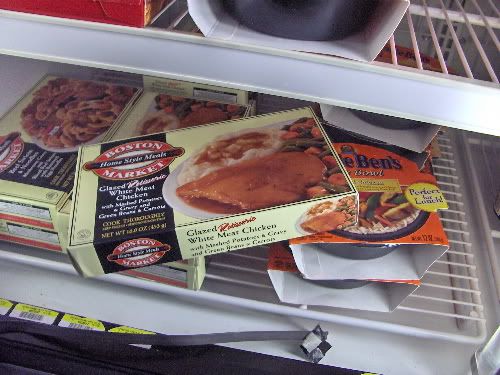 We started making a little pile up at the counter because they didn't have shopping baskets. As I ordered nine Go-Go Taquitos in a variety of flavors, the man said to me "Oh, you are having a big party!" "Yes," I said. "We are having a dinner party".

Doug selecting the beef jerky.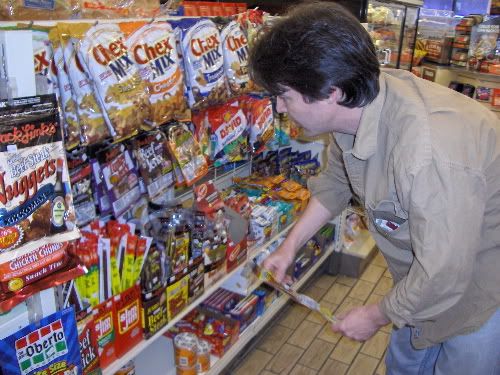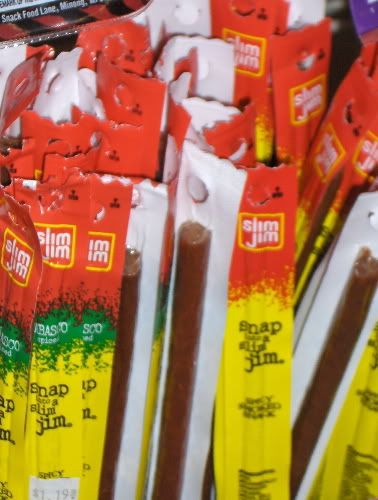 Our Go-Go Taquito Man.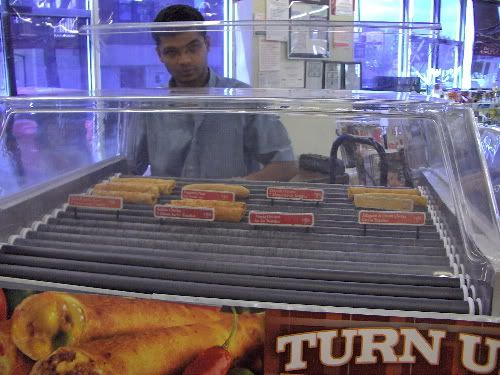 They thanked us profusely.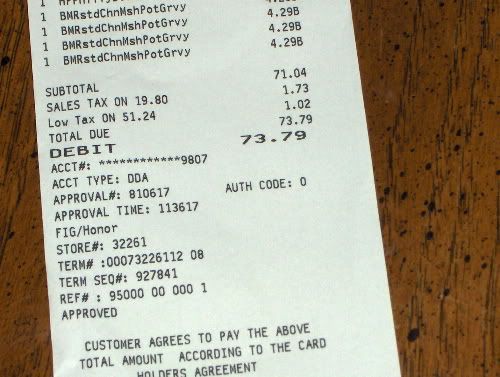 We had to stop at our neighborhood 7-Eleven for a few more items, including the Dr. Pepper. Then, home to start cooking.

The first thing we did was make the sherbet.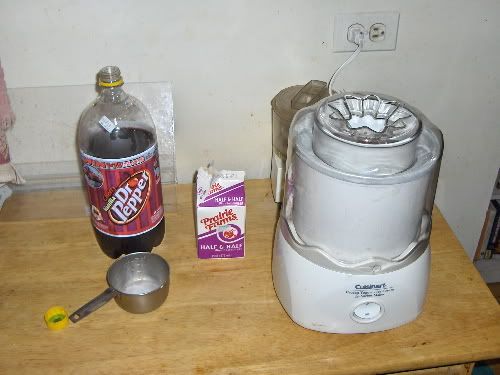 Two cups of Dr. Pepper, one cup of half and half. Unbelievably, it needed sugar. It was not sweet enough. We added about a quarter cup of corn syrup (available for purchase at 7-Eleven).

A delightful success, that. An auspicious beginning.

Back to the lack of fresh ingredients and herbs. What the hell are we going to do about garnishes?

This is what happens when you put a Guacamole Dorito in a coffee grinder. In this photo I have tapped out the corn, which separated from the coating, and I am removing the coating from the side of the machine to be used as a plate dusting.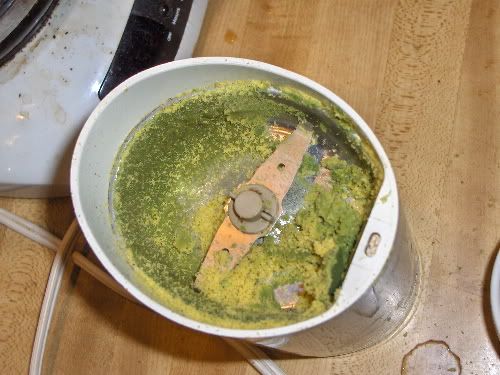 Let's talk about the chowder prep for a minute. We used Jasper White's technique for chowder (rendering the Slim Jim along with the bacon), and here is where we maybe fudged or stretched a bit. We used an onion. Theoretically we could have bought the man's onion that he chops up for the hot dogs. If I had offered him $5 he would have sold it to me, and they are available in the hot dog garnish tray. But, as Leonard pointed out, if I'd offered him $20 he would have run and bought me a bag of onions. So...ok. But please let that slide. It was better this way, trust me.

Not that it was good, mind you.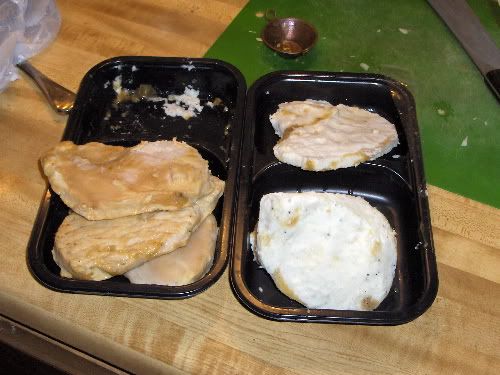 The "glaze" on this stuff. Oh. My. God. I am seriously considering doing some research on who has this job. Who thought this was ok? I am not kidding when I tell you that it didn't even smell edible. It smelled toxic. And it was on my hands, and it was in my house, and the whole frigging kitchen smelled like this awful, awful, worse than stuff you clean your oven with, horrible, sickening, scraped from the bottom of the dumpster slime.

I was able to crack it off after slightly thawing the chicken and prying it from the potatoes. However, the chicken was I think actually infused with this stuff, to the point that we almost scrapped the dish.

Unfortunately for everyone involved, we did not.

In the test bowl, we discovered that the beef jerky actually made it better. The thing that was missing was potatoes.

Problem solved.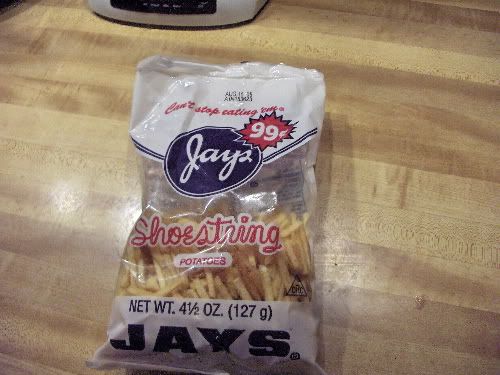 The potato sticks actually made the whole thing better as well. Probably because the only ingredients in them were potatoes, oil and salt.

The salsas were actually fun to make because we were working with relatively fresh ingredients. The pineapple salsa, with some tweaking, is a surprising keeper.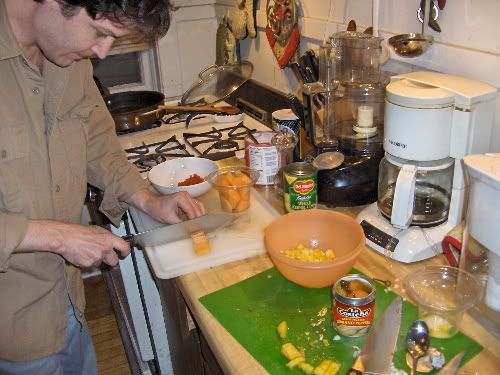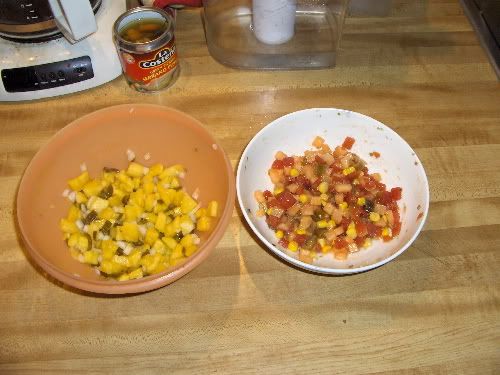 The main course concept is the one we struggled with the most. We finally settled on fried lunch meats and a (please god, let there be a fresh apple) few slices of apple, with a sauce made from a canister of parmesan cheese (how bad can it be?) and sitting atop our cobblestone crusts, which were made from gutted Philly Cheese Steak Hot Pockets.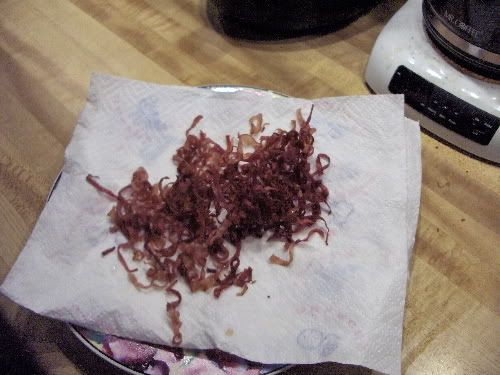 I hit my crisis point at about 6 p.m. while gutting Hot Pockets. What the hell are we doing? As I scraped and tried not to think too hard about this growing pile of gunk in front of me and the ridiculousness of the project and the wastefulness of it all and the fact that we were spending all of this time working on something that was making us unhappy, I almost called it quits. Unhappy we were. I love to cook and I love to prepare fantastic meals for my friends and this just felt wrong. Something seeped into us (probably literally) as we got further and further into it and as committed as we were to the project, it was impossible to enjoy any part of it. Even the joy in the campiness of it all was gone.

-----

The stage is set.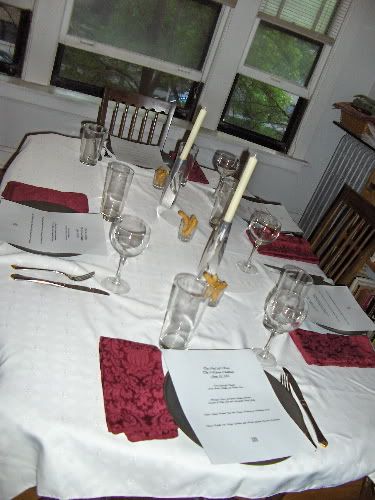 On the table, instead of bread, are TGI Friday's Mozzarella Stick Snacks.

We started with the

Trio of Go-Go Taquito
Fruit Salsa Medley and Dorito Dust.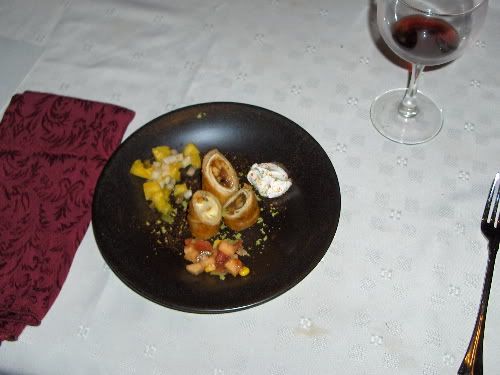 This was not bad. As I said, the salsas were sort of ok to make, and while I would hesitate to call the pineapple salsa "good", it was not bad and can be improved upon with a little effort and without the 7-Eleven restriction. Really this dish was more about presentation, since there wasn't anything we could really do to the Go-Go Taquitos. It seemed essential that they find their way to a plate in this challenge, though.

Please do note the Dorito Dust garnish.

Next up:

Hungry Man Farmhouse Chicken Chowder
Essence of Slim Jim and Matchstick Beef Jerky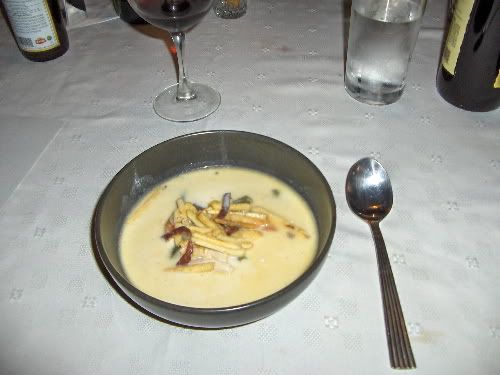 Our guests were anxious to get to the dishes that were "prepared" rather than "assembled". Uh-huh. We used liberal butter and heavy cream in this, along with the potentially illegal onion. And the bacon. This started off sort of ok. But we've already talked about the chicken, and we tried to use some of the potato to thicken the broth. Doug was actually scraping the glaze remnants off of the semi-frozen potato slabs and picking them up and sniffing them before they went into the pot.

The chicken was unbearable. First of all, neither Doug nor I could forget our encounter with that smell, since the chicken did seem to be infused with it. The texture of the "meat" was pasty and grainy. The vegetables (green beans and carrots, which also had been rinsed of some kind of goop) were not bad. The beef jerky and the potato sticks were the best part, probably because they were the most natural things in the dish.

We had left the remainder of the chowder in the pan on the stove overnight. Yesterday I opened the pan. Whereas the day before it had sort of smelled like chowder, that smell was now back with a vengeance.

Look, our guests knew what they were getting into.

Next Up!

Oscar Mayer Pomme Tart with Sauce Mornay over Cobblestone Crust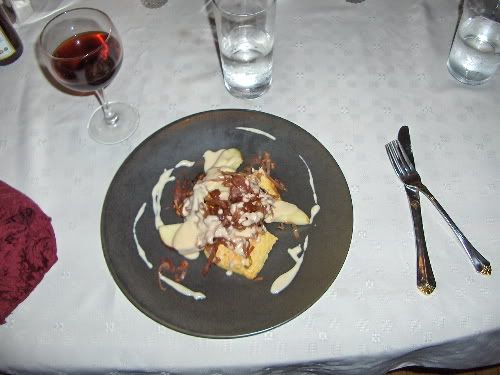 Absolutely inedible, despite evidence to the contrary: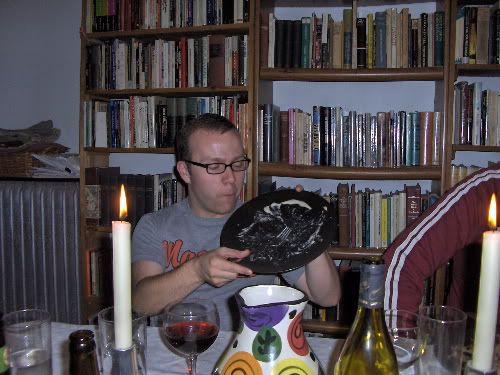 We don't know why he did that.

First of all, fried lunch meat. I have fond memories of fried baloney from childhood. Those memories have been irrevocably corrupted.

The sauce just didn't work. We knew it wouldn't, so I'm not sure why we tried. I guess...well, I just don't know. A canister of shelf stable parmesan cheese is just not a good place to start.

But yay! Fresh apple! There are slices of fresh apple in there laying atop the Hot Pocket crust. I think everyone ate the apples. We sort of felt like we owed it to them.

An utter disaster.

But get ready for the finale, because it's BIG.

Cherry-Vanilla Dr. Pepper Sherbet with Hand Ground Chocolate Eclatement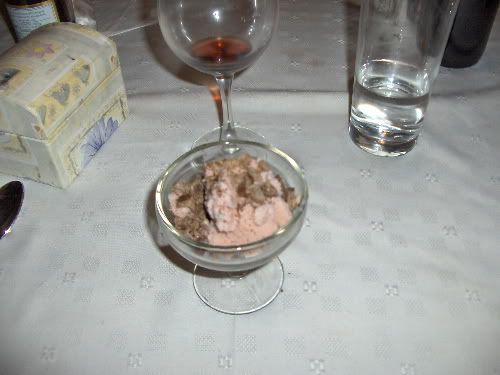 When Doug first suggested Dr. Pepper sorbet (the sherbet idea was a last minute change - and an improvement) I could not get out of my mind this idea about Pop Rocks. Turning the soda into a frozen dessert would remove the carbonation, and I was thinking about how great it would be to put it back in.

Pop Rocks, I discovered, are mainly special order. They don't carry them at 7-Eleven. I've been looking for weeks. We accepted that this just was not going to happen, and we toyed with the idea of turning the sherbet into an amuse bouche between the chowder and the main course, and then doing something else for dessert.

BUT THEN

THE FRIGGING HOLY GRAIL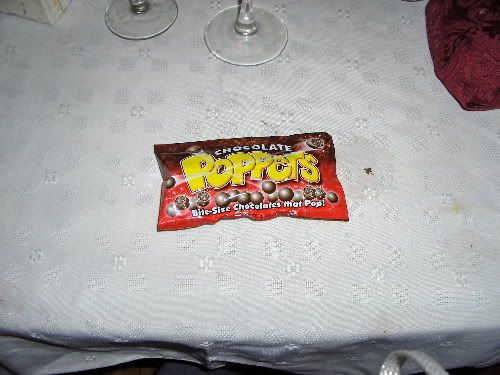 Doug picked up the package and showed it to me. Could it be possible? It's chocolate. They look sort of like malted milk balls. The graphic on the package seems to suggest a certain experience, but can it be so?

Oh, my. Let me tell you about watching the faces of our guests as they realized what was happening. Nobody expects the chocolate pop rocks. Turns out they were made by some probably sketchy Turkish candy company. We may have had the only bag of this stuff in the whole country. Doug got a volume discount when he went back for more.

As to the description on the menu, we needed some word to describe what this was without giving it away. If any of you speak French you might tell me this is completely off base, but it worked for our purposes.

Eclatement means Explosion: joy, mirth.

And that it was.

----

In the aftermath of this I still can't shake this uneasiness that what we've done is something of a crime against nature. I've been on sort of a kick about chemicals and processed foods lately, and this did nothing but reinforce my notions that we just don't completely understand what some of this stuff does to us. Obesity, disease, depression, etc. - I think it's possible that a culture of processed foods has helped create these monsters. In any case, it can't be considered a benefit. I know how Doug and I felt as we prepared this "meal". It made us unhappy. It made us angry and argumentative and sad. Looking at the dishes the next day I couldn't even bring myself to wash them. I wanted it all to just go away.

I think the project had to be done. It sparked a lot of interesting discussions and serious thinking about what we consume and how it's sold to us.

Additionally, one of the comments that was made was by Cole wondering when he goes to a restaurant, how much of the cost of his meal is presentation? Is that all you pay for?

I think we successfully proved that one cannot live on form alone. Content matters. I really didn't think this would be that bad, and I really expected to have fun doing it. I was delighted our friends were there, and it was an experience never to be forgotten and NEVER to be repeated (god help us), but I am so glad it's over.

Please, whatever you do, don't try this at home. posted by [AOK] | 9:12 AM